04sep(sep 4)8:00 am07(sep 7)12:00 pmÖverlevnadskursOutcraft i Immeln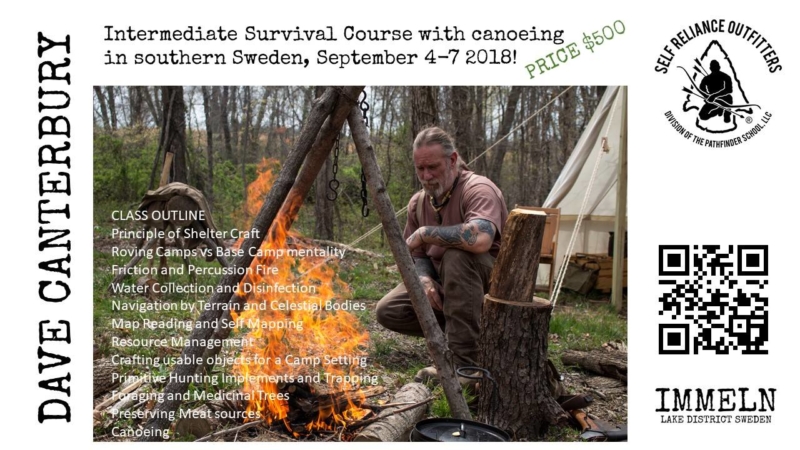 Info
Scout/Pioneer Survival with Dave Canterbury
CLASS OUTLINE
Principle of Shelter Craft
Roving Camps vs Base Camp mentality
Friction and Percussion Fire
Water Collection and Disinfection
Navigation by Terrain and Celestial Bodies
Map Reading and Self Mapping
Resource Management
Crafting usable objects for a Camp Setting
Primitive Hunting Implements and Trapping
Foraging and Medicinal Trees
Preserving Meat sources
IMPORTANT:
REGARDLESS OF YOUR EXPERIENCE OR SKILL LEVEL IN THE WOODS, THE PIONEER CLASS IS AN INTENSE CLASS AND IS A FEW STEPS ABOVE WHAT THE BASIC SURVIVAL CLASS WAS.
THIS CLASS WILL REQUIRE HIKES OF 5+ MILES AT A TIME FOR COLLECTING STICKS AND NAVIGATION COURSES DAILY OVER TERRAIN WHICH MAY BE VERY MUDDY AND UNEVEN WHILE CARRYING YOUR GEAR.
THE THIRD NIGHT OF THE COURSE YOU WILL BE REQUIRED TO SLEEP IN A BUSH CAMP SHELTER THAT YOU WILL CONSTRUCT AS PART OF THE FINAL EXERCISE AND YOU WILL HAVE LIMITED GEAR FOR COMFORT- NO EXCEPTIONS ARE MADE, IF YOU CANNOT MAKE FIRE, YOU SIMPLY WILL NOT HAVE IT.
Read more:
https://www.selfrelianceoutfitters.com/products/pioneer-scout-intermediate-survival-class?ref=isp_rel_prd&isp_ref_pos=2&variant=102740492289
Tidpunkt

tis, 04 sep 2018 08:00 - fre, 07 sep 2018 12:00
Plats

Outcraft Immeln

Gamla byvägen 1 A