20may6:00 pm8:00 pmTHE HEBBE SISTERSEkestadsparken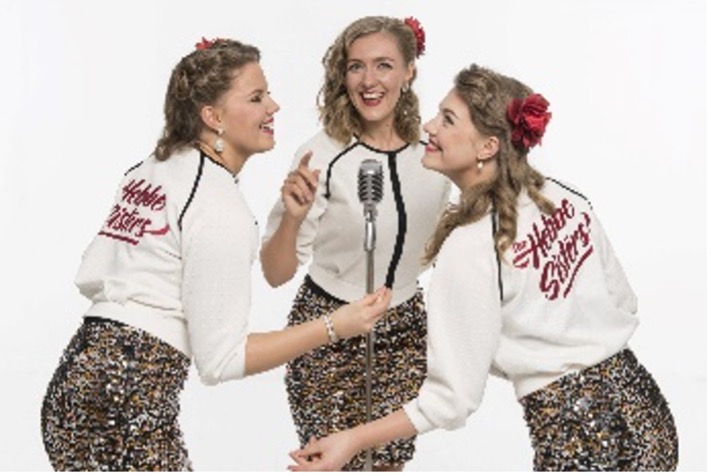 Info

THE HEBBE SISTERS

– Glädje, utstrålning & musikalitet –

Emelie, Josefine och Maria Hebbe är tre värmländska, välsjungande systrar som har sjungit sedan mycket tidig ålder. De uppträder regelbundet i många olika sammanhang både i Sverige och utomlands. Nyligen har man kunnat se dem leverera proffsiga framträdanden i både Allsång på Skansen och Bingolotto.

Systrarna har en förkärlek för swingmusik, men de sjunger även bl.a pop, klassiskt, musikal och visa. Trion levererar alltid högklassiga program med härlig energi och träffsäker stämsång.

Under de senaste två åren har de hunnit med hela sex turnéer i Schweiz och att släppa två album tillsammans med deras föräldrar i Duo Sentire: "En strålande jul" (2016) samt "På vår blomstrande äng" (2017).

År 2020 är de aktuella med sin tredje skiva som blir deras största produktion någonsin, albumet Jazz it up and move tillsammans med Sveriges jazzelit.

"The Hebbe Sisters är Sveriges svängigaste sångerskor!"
/Gunhild Carling, multiinstrumentalist

Spelplats: Ekestad, Folkets Park

Speldatum: Fredag 20 maj 19.00

Speltid: 1 timme

Biljetter köps via 044-12 58 20

Pris: 190 kr (ungd. 95 kr) Medlemsrabatt finns!

 

I Ekestad bjuds vi på soppa som serveras från kl.18.00

I samarbete med Ekestads Folkets Parkförening

Varmt välkomna!